Interculturality and the Arts
Readings, music,discussions and keynote address April 17–19
Introduction
During the week of April 15th 2013, the UNC and Duke communities hosted the honorable residency of Nobel Laureate for Literature, Jean‑Marie Le Clézio, his wife Jemia Le Clézio, Mauritian scholar and activist Issa Asgarally and his wife Sarojini Asgarally. In line with the objectives of the Foundation for Interculturality and Peace that was cofounded by Jean- Marie Le Clézio and Issa Asgarally, our invitation represented an opportunity for the Foundation and the UNC and Duke communities to promote intercultural dialogue amongst scholars and students.
Building upon our guests' argument that the only hope for humanity is our engaged commitment in promoting dialogues of culturally diverse voices, the questions that drove the development of our Interculturality and the Arts events were the following: How can we promote intercultural dialogues? What does interculturality signify in today's world? What is the role of the humanities and the arts in promoting interculturality?
---
Interculturality and the Arts April 17th 2013
L'Interculturel ou la Guerre / Interculturality or War - Issa Asgarally
A new way to see and act
"The underlying causes of violence and war do not change with time. These are always greed, injustice, inequalities, arrogance and excessiveness. One must recognize that culture is paradoxically added to this mix: paradoxically, because culture is theoretically associated with peace, with the coming together or reconciliation of men and women. In the reality, however, culture can lead to war or to peace. Let us remember that colonization and slavery had a cultural foundation and rested on a hierarchical organization of races that justified so-­‐‑called superior races 'civilizing' the so-­‐‑called inferior races. Culture can also be associated to inhumane acts: survivors of Nazi concentration camps have said that they could hear music by Wagner…
---
L'émission "The State of Things" de la North Carolina National Public Radio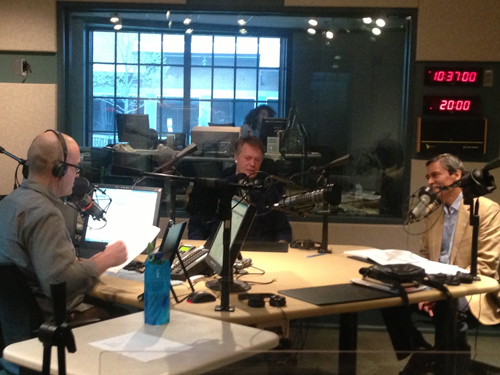 Scholars Push For Interculturality - JMG Le Clézio & Issa Asgarally
http://wunc.org/post/scholars-push-interculturality
---
Un bref témoignage sur le colloque « Interculturality & the Arts »
I. Introduction
J'ai assisté récemment à un colloque intitulé « Interculturality and the Arts, » auquel participait J.M.G. Le Clézio. Je voudrais féliciter Martha van der Drift (qui prépare un doctorat à l'Université de Caroline du Nord, à Chapel Hill) d'avoir organisé cette conférence très chaleureuse et fructueuse. Insistant sur l'urgence du dialogue interculturel et du rôle majeur tenu par les arts dans la création d'un monde meilleur qui reflète les valeurs de ses diverses cultures, Martha van der Drift a invité les spécialistes de plusieurs disciplines à ces discussions. En choisissant des thèmes très variés, tels que des exposés académiques, des lectures, de la musique, des films, des visites d'école, elle a réussi à organiser une conférence internationale concrétisant ce qu'on entend par interculturel, ainsi que les buts humanistes de la Fondation pour l'Interculturel et la Paix (FIP). Les discussions animées ont souvent mis l'accent sur les obstacles nombreux qui empêchent un dialogue interculturel fondé sur un respect réciproque. Les actions concrètes, surtout dans les établissements scolaires de la région, ont montré qu'il fallait payer de sa personne, sur le terrain, afin de préparer l'état d'esprit à l'interculturel, particulièrement à notre époque de mondialisation triomphante.